As a creator, entrepreneur and small business owner, my focus can get swallowed up by the day to day. Sometimes it's easy to forget why you do what you do; what all of the hard work is for. When I feel lost or overwhelmed I look for wise words and motivational musings. Hearing from others who have achieved great things helps to keep me centered.
I hope some of these words resonate with you too!
The Strength of Women
Now more than ever, it's important for women to recognize the significance of lifting each other up. As a feminist and supporter of equal rights for all humans, I seek strong female voices to lift me up, keep me focused and remind me that I'm not alone.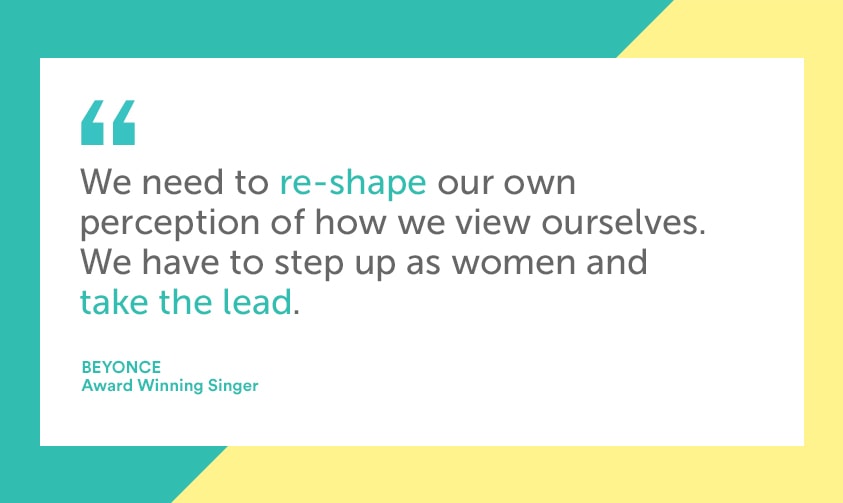 "We need to re-shape our own perception of how we view ourselves.  We have to step up as women and take the lead." Beyonce, Award Winning Singer
"A woman with a voice is, by definition, a strong woman." – Melinda Gates
"As women, we have to start appreciating our own worth and each other's worth. Seek out strong women to befriend, to align yourself with, to learn from, to collaborate with, to be inspired by, to support, and enlightened by." – Madonna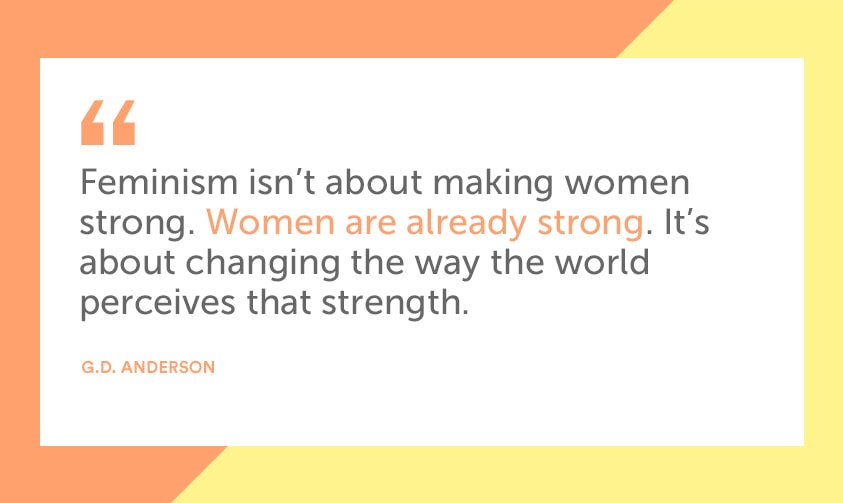 "Feminism isn't about making women strong. Women are already strong. It's about changing the way the world perceives that strength." – G.D. Anderson
"Each time a woman stands up for herself, without knowing it possibly, without claiming it, she stands up for all women". – Maya Angelou 
"You deserve to be here. You deserve to exist. You deserve to take up space in this world of men". – MacKenzi Lee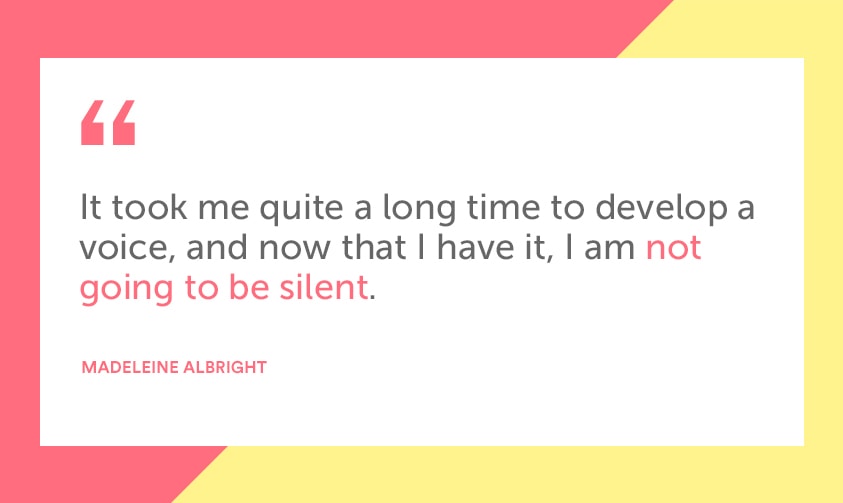 "It took me quite a long time to develop a voice, and now that I have it, I am not going to be silent." – Madeleine Albright
"Don't let anyone speak for you, and don't rely on others to fight for you." – Michelle Obama
"I am not free while any woman is unfree, even when her shackles are very different from my own." – Audre Lorde 
Entrepreneurial quotes
Business ownership is HARD. And sometimes very lonely. It can feel like you are climbing an impossible mountain with no end in sight. When overwhelm and fear begin to take hold, I look for experienced words to help me get back on track.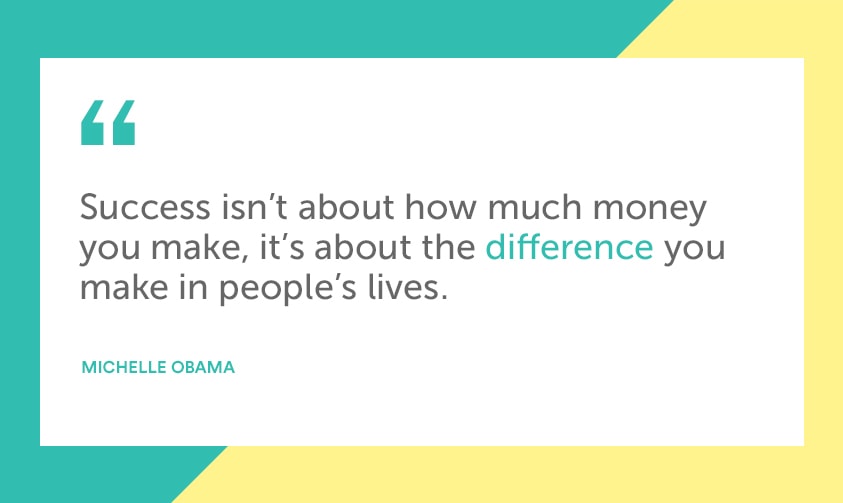 "Success isn't about how much money you make, it's about the difference you make in people's lives." – Michelle Obama
"Success doesn't come from what you do occasionally.  It comes from what you do consistently." – Marie Forleo
"There is no better personal development tool than running your own business." – Ali Brown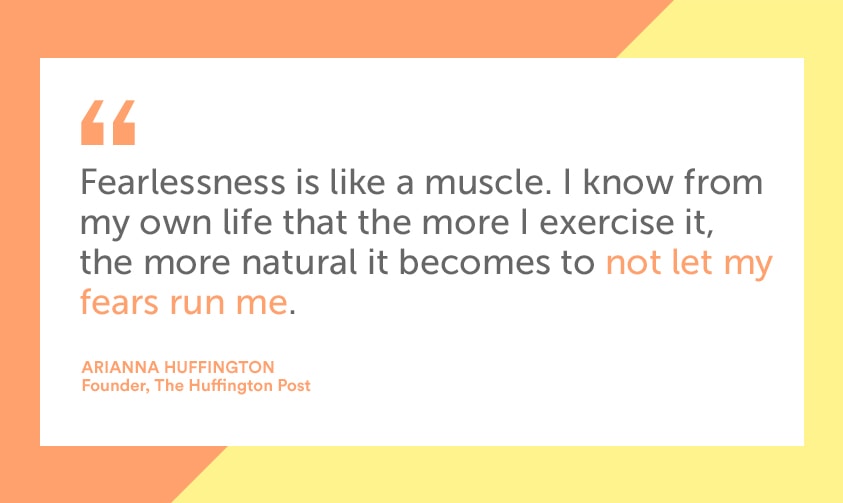 "Fearlessness is like a muscle. I know from my own life that the more I exercise it, the more natural it becomes to not let my fears run me." – Arianna Huffington, founder, The Huffington Post
"Action is the foundational key to all success." – Picasso
"Amateurs sit and wait for inspiration, the rest of us just get up and go to work." – Stephen King
"The beginning is the most important part of the work." – Plato
"Effort is grossly underrated." – Gary Vaynerchuk
"Would you like me to give you a formula for success? It's quite simple, really. Double your rate of failure." – Thomas Watson
"I hated every minute of training, but I said, 'Don't quit. Suffer now and live the rest of your life as a champion.'" – Muhammad Ali
"It does not matter how slowly you go so long as you do not stop." – Confucius
"Success is not final; failure is not fatal: it is the courage to continue that counts." – Winston Churchill
"Most great people have attained their greatest success just one step beyond their greatest failure." – Napoleon Hill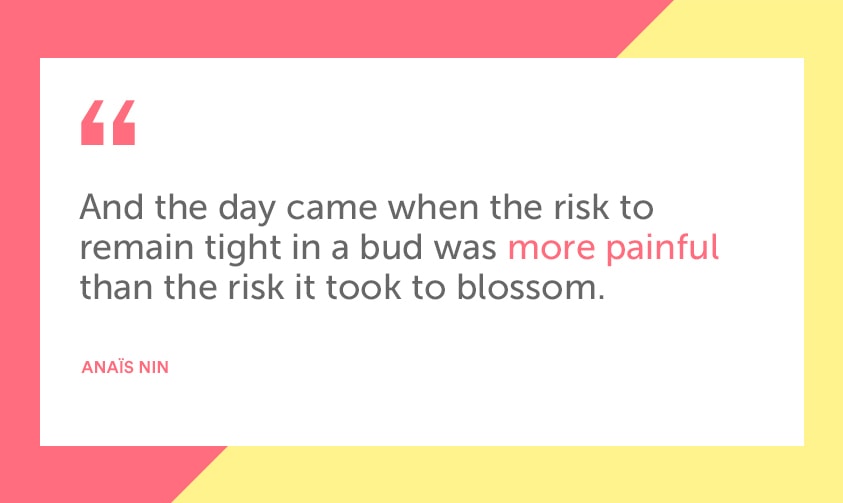 "And the day came when the risk to remain tight in a bud was more painful than the risk it took to blossom." – Anaïs Nin
"Don't say you don't have enough time. You have exactly the same number of hours per day that were given to Helen Keller, Pasteur, Michelangelo, Mother Teresa, Leonardo da Vinci, Thomas Jefferson, and Albert Einstein." – H. Jackson Brown Jr.
Life, Strength and Failure
I always tell my kids that failure is a gift; it's an indicator that you're living life, taking risks and pushing yourself to be better. There are moments when I need that reminder–to keep moving despite the temptation to quit. The following quotes capture the sentiment.
"You gain strength, courage and confidence by every experience in which you really stop to look fear in the face. You are able to say to yourself, "I lived through this horror. I can take the next thing that comes along." You must do the thing you think you cannot do." – Eleanor Roosevelt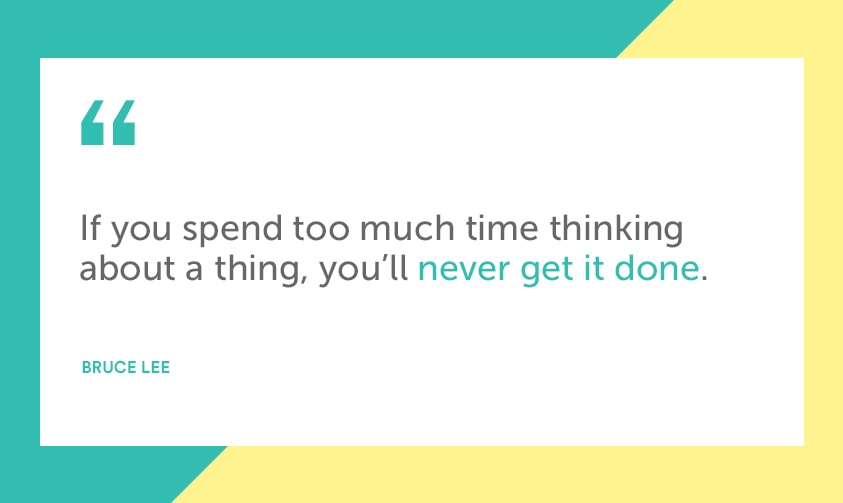 "If you spend too much time thinking about a thing, you'll never get it done." – Bruce Lee
"Be so busy loving your life that you have no time for hate, regret or fear." – unknown
"It always seems impossible until it's done." – Nelson Mandela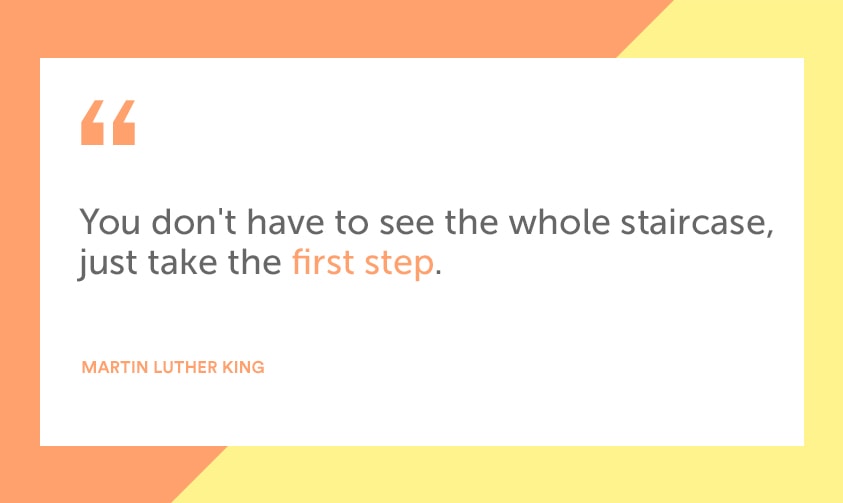 "You don't have to see the whole staircase, just take the first step." – Martin Luther King
"How dare you settle for less when the world has made it so easy for you to be remarkable?" – Seth Godin
"If you are facing a new challenge or being asked to do something that you have never done before don't be afraid to step out. You have more capability than you think you do but you will never see it unless you place a demand on yourself for more." – Joyce Meyer
"Failure is so important. It is the ability to resist failure or use failure that often leads to greater success." – J.K. Rowling
"Nothing is impossible. The word itself says 'I'm possible!'" – Audrey Hepburn
"A person who never made a mistake never tried anything new." – Albert Einstein
"Our greatest weakness lies in giving up. The most certain way to succeed is always to try just one more time." –  Thomas Edison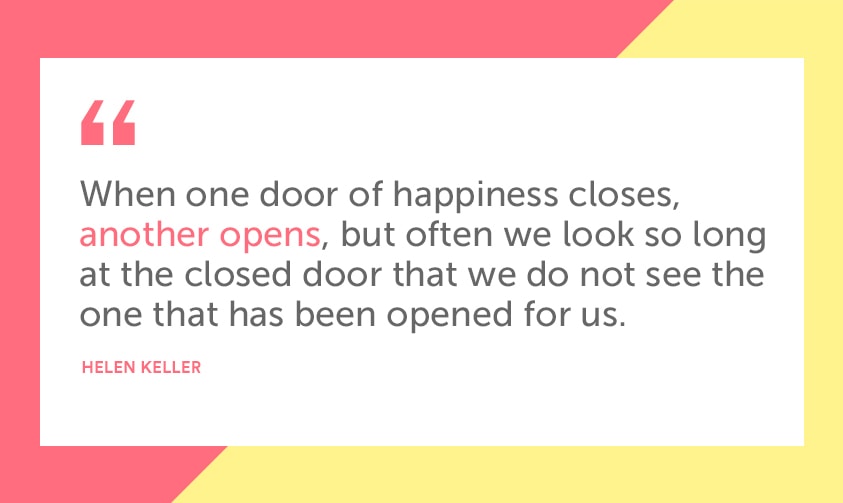 "When one door of happiness closes, another opens, but often we look so long at the closed door that we do not see the one that has been opened for us." – Helen Keller
"It is not the strongest of the species that survive, nor the most intelligent, but the one most responsive to change." – Charles Darwin
Do you have a favorite quote that helps to keep you centered? We'd love for you to share your thoughts in the comments!


Like this post? Click below for related content:
How to Stay Productive When You Work From Home!