If have a business you MUST have a website–there's no way around it. A site will validate your existence and provide a home for your digital assets. So where to start?
In your research, it's likely that you've come across WordPress and Squarespace: two of the most popular website platforms on the market. You may have noticed it's important to compare not only price but compatibility, ease of use, security, search and the site's ability to grow and pivot with your business. That's a lot to consider!
Luckily for you we've done some exhaustive research for you. So let's begin.
The Basics
Squarespace
Squarespace is a 'software as a service' (SaaS) website builder that has everything you need to build and maintain a simple website. Squarespace hosts your website and provides all of the tools with an easy WYSIWYG interface. You have a series of templates to choose from and the creative control is limited. However, this solution works out of the box and is very plug and play as a result.
There are two versions of Squarespace:
Standard version: Most Squarespace customers use this because it is designed for people without web development skills
Developer's version: On the other hand, allows users to access and manipulate the source code in order to add more functionality to your site
WordPress
WordPress is an Open Source CMS (Content Management System) platform which is currently used by millions of people around the world. In fact, 34% of the internet is powered by WordPress sites. WordPress is completely customizable by leveraging various themes, plugins and robust community support. Some big names using WordPress include Beyonce, The New Yorker, The Wall Street Journal, TechCrunch and Disney.
There are also two versions of WordPress:
Hosted WordPress: It is a software as a service tool just like Squarespace but it is a bit more limited because you need to use third-party apps for some features like e-commerce, and it comes with an additional fee.
Self-hosted WordPress: You need to install a software to your own web server and since it's open-source, you can freely modify the code.
So which version is this WordPress vs Squarespace comparison focusing on?
For this comparison, we are going to focus with standard version of Squarespace and the self-hosted version of WordPress. Let's see how an 'all-in-one' tool that requires monthly payment (Squarespace) can be compared to an open-source platform that requires more configuration (WordPress).
Cost Overview
Squarespace
There are four monthly plans available:
Personal – $16 per month
Business – $26 per month
Commerce Basic – $30 per month
Commerce Advanced – $46 per month
You can get these plans for cheaper prices if you pay on an annual basis.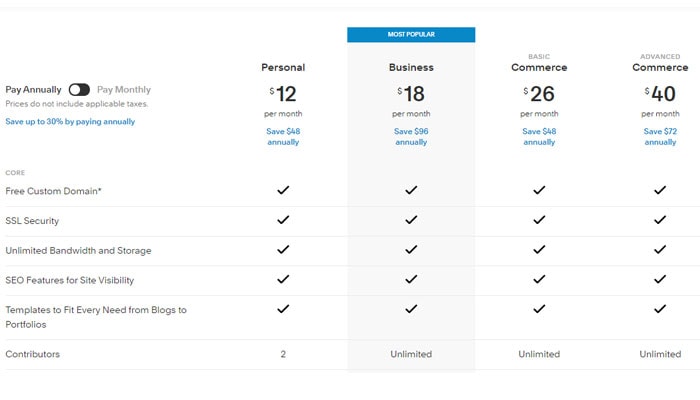 WordPress
Since WordPress is open-source, you may be under the impression that it's totally free, but there are some details that can affect your costs:
Hosting (server space where the site will be hosted)
Domain name (the actual web address: ex// www.yoursite.com)
Premium themes or templates
E-commerce integration (premium tools that will allow you to sell products online)
Plugins (apps that add functionality to your site)
Developer/agency site to customize and build the site per your requirements
Of course some of the above are optional but the hosting and domain registration will always need to be factored into your budget. Hosting prices depend on where you choose to host your website. They're usually from $4 (shared hosting) to $30 (managed WP hosting) per month.
From a pricing perspective, Squarespace may be the most affordable option if a very simple 5 page site is all you need. However if growth is in your near future, investing in a WordPress site out the gate may be the best choice in the long run. It all comes down to careful strategic planning and being mindful of the bigger picture. In the end, it will depend on your website needs, business goals and overall marketing strategy.
Ease of use
Squarespace
Squarespace has done a nice job of minimizing decision fatigue: it is straightforward and very easy to use. The flip side of this, of course, is a lack of flexibility and custom design (at least within the standard version). The good news is that beginners can quickly publish content and craft a professional looking site in little to no time. But when it comes to growth, flexibility and customization, Squarespace does fall a bit short.
WordPress
The WordPress interface is also easy to use; it uses custom blocks and allows the user to add content elements and build beautiful layouts. If you're new to WordPress there can be a bit of an upfront learning curve, but if you've partnered with a developer or agency, they will have agreed (or insisted as we do!) to train you up on the basics.
Winner: Squarespace! Everything is ready ready out of the box. All you need to do is write some content, upload some photos and you're on your way 🙂
Design and Templates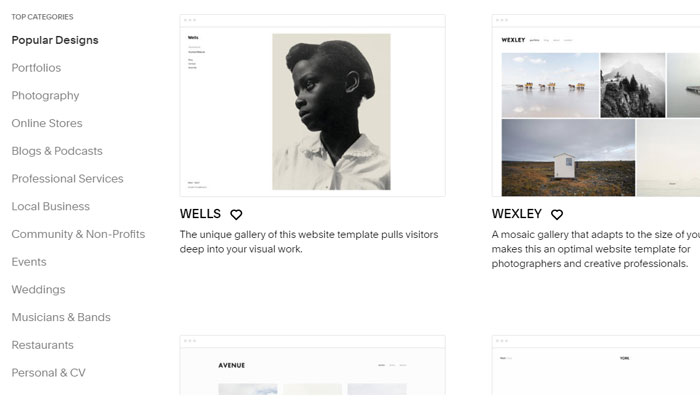 Squarespace
Squarespace does have ready-made website themes that are beautifully organized into categories. Unfortunately, as I've already mentioned, the selection is very limited. Even the design options within each theme are limited to the features available in the customizer. Although you can still customize the colors, logo, and other design elements, Squarespace themes come with limited number of layout choices and configurations.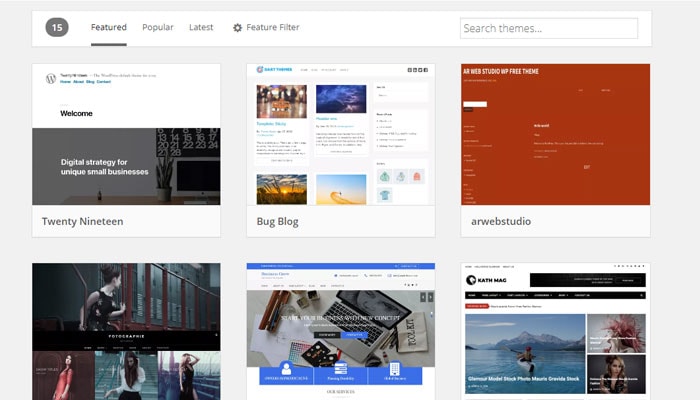 WordPress
WordPress offers thousands of free and paid website templates that you can use to plug and play or customize and tweak till your heart's content. There are 2 main selling points to keep in mind when it comes to WordPress: 1. FREEDOM. With WordPress, the possibilities are endless 2. It's impressive ability to scale and support just about any kind of website you hope to build. Some examples of different flavors of sites include: online portfolios, affiliate websites, news sites, E-commerce stores, community hubs, membership sites and business websites.
WordPress is clearly the winner here in terms of number of template choices, customization options, and flexibility.
E-commerce
Squarespace
E-commerce is supported in Squarespace including built-in cart recovery emails which is a high point. Although you can get it with WordPress, a third-party plugin is needed. The downside with Squarespace is that there are only three payment gateways to choose from: Stripe, Paypal and Apple Pay. Aside from that, you also need to pay 2-3% transaction fee on top of credit card processing fees unless you want to upgrade to a more expensive e-commerce plan.
WordPress
In order to integrate the e-commerce feature in WordPress, you will need to install a premium (paid) plugin. One popular and highly reputable e-commerce solution is WooCommerce. Once installed, the gateway and method for processing these payments is completely up to you.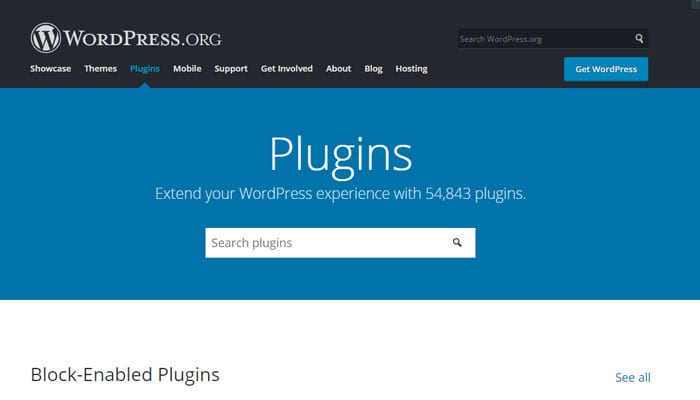 In our eyes, WordPress is the better option if you plan to sell things online. There are far superior tools, data collection and nurturing techniques that you can put into play with WordPress. Again, it's all about growth. If you're selling things online, the idea is to grow, scale and expand! With the right tools in place, WordPress will do just that.
Flexibility
Squarespace
A lot of useful features come with Squarespace, but it is still very limited compared to WordPress. Although there are developers starting to sell third-party code snippets to improve the functionality of Squarespace sites, they're not as simple to install as WordPress plugins.
WordPress
Thousands of plugins are available to add more functionality in your site with WordPress. Whether you want to add e-commerce, display a photo gallery, show customer reviews, there are a wide range of reputable plugins available for you. And if you can't find a plugin that suits your needs, you can hire a WordPress developer to get you there.
With Squarespace, you can easily tweak visuals including the templates and layouts but when it comes to overall flexibility, WordPress wins everytime 🙂
WordPress vs Squarespace: Conclusion
WordPress is no doubt the most powerful and flexible of the two. However, there is beauty in simplicity and getting something up that's representative of your brand is certainly more important than doing nothing at all! When all else fails, pick the path of least resistance and just get started!
Why you should choose Squarespace over WordPress
Squarespace is easier to set up with little to no learning curve
Features are already built-in, no need to install extra plugins
Hosting and domain names are already included with the product
Why you should choose WordPress over Squarespace
WordPress can grow with a business of any size
The possibilities are endless: you can create any kind of site within WordPress
The WordPress community can't be beat
WordPress powers 34% of the internet and it isn't going anywhere!
Like this post? Click below for related content:
Your Quick (& Dirty) Guide to WordPress vs. Wix