How effective are your in-house digital marketing efforts? If you feel you could be doing more you're not alone. This report suggests that 47% of small business owners don't even know if what they're doing is working.
That's why many small to mid-sized businesses decide to outsource their digital marketing activities. Why do it yourself when you can leave it to the experts? Digital marketing lends itself well to outsourcing because it's internet based and can be broken down into a number of separate categories (e.g website design, content marketing, social media management) that can easily be handed off to a third party.
Here are 5 reasons why you should consider outsourcing as opposed to hiring (and onboarding and training and insuring!) someone in-house.
1. Get the complete marketing package
Research has found that only 9% of businesses consider themselves strong in all areas of digital marketing. It's rare for one person to possess all the skills you will need. For instance, an in-house marketer may be strong at blogging and putting together email campaigns but weak in web design and social media management.
You can avoid these glaring (and costly!) skill gaps by using an experienced agency who can give you dedicated time, effort, resources and manpower. By utilizing all the resources that an agency has to offer, you can increase your visibility and take advantage of more opportunities to reach your audience.


2. Results without the overhead
If you want to save money then your best bet is to outsource to a digital agency. If you hire a full-time employee to tackle your marketing needs you'll have to pay them a full time salary and offer, at the very least, training, sick leave, health insurance and 401k plan.
In today's competitive market place you also have to offer unique perks to retain long term staff.
For the cost of having one full-time marketing employee you could outsource and save 50% or more.
3. Gain a new perspective
Marketing ideas need to remain fresh and relevant to attract new customers and keep existing ones. It's easy to get stuck in a rut if you use an in-house marketing team, and they may not have the time or resources to stay up to date with the latest marketing trends, techniques and technologies. This can severely limit your approach and your brand's exposure.
A well-rounded agency lives and breathes marketing and with its diverse expertise can offer a new perspective on your business. They know what works and what doesn't and can bring a host of new ideas to the table.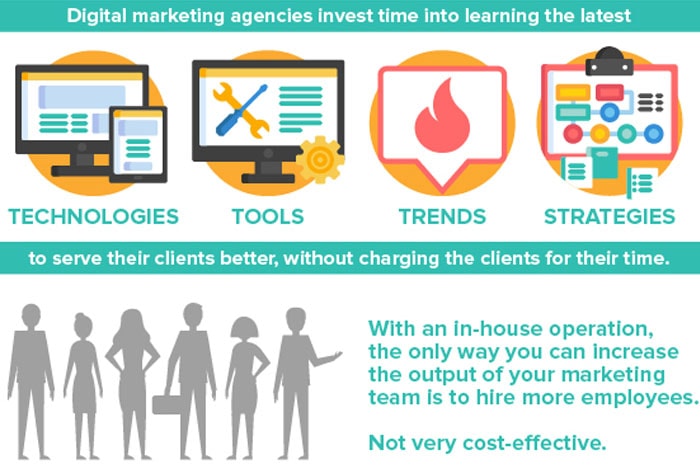 4. Increase your efficiency
While marketing is important for your business it can often slip down the ranks when there are other tasks that need to be done. You can easily end up limping along with no achievable goals, no campaigns and no results.
Handing over your marketing efforts to a trusted team of experts is definitely money well spent. Not only does it free you up to concentrate on core business tasks, it also gives you measurable results in the form of monthly reports that allow you to keep track of your ROI.
5. Greater scalability and consistency
Say you're just about to launch a new product. You need to ramp up your current marketing processes quickly to get the word out. Unfortunately your in-house marketer has just come down with a nasty flu and you're left scrambling to find a temp who isn't up with the play.
It's a missed opportunity that could have been avoided with a marketing agency. You can scale your marketing campaigns accordingly as an agency has the bandwidth to respond to your needs in a timely manner. Your marketing efforts will also be more consistent without staff absences causing gaps in delivery.
If you need an extra set of hands for your web care maintenance, or a specialized service, such as branding, web design, or content marketing then get in touch with AlchemyThree. We can take on all of your marketing activities or work with your existing marketing team if you decide to keep some processes in-house.
We're here to help you figure out whatever solution works best for you! Schedule a quick call or a strategy session to discuss your needs.